Manuals and files
Pitching with Randallfoils (31.32 KB)
Fitting Instruction video on YouTube (0.00 B)
Details
Randall Foils
Increased blade efficiency
Rowers report a rowing speed increase of up to 6%.
Installation is easy and they fit on every brand of oars.
Randallfoils reduce the slip at the catch to a minimum.
The blades therefore stabilize faster at the catch. They prevent the blades from going too deep during the first part of the stroke, allowing the blades to be "anchored" at an earlier stage of the stroke. The result is a faster coupling with the catch and therefore a higher overall boat speed.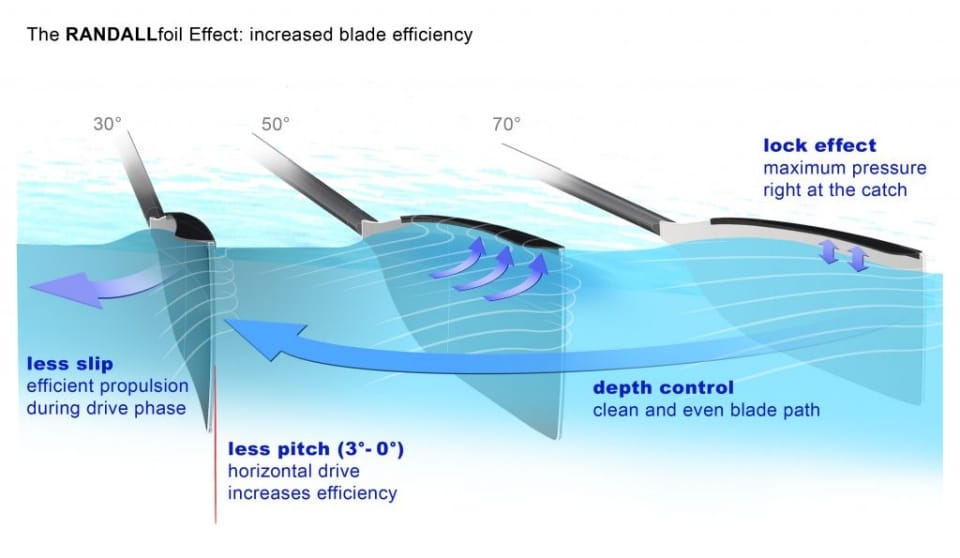 Pitching:
HIGHER oarlocks and ZERO degrees angle
Raise your gates at with at least 2 rings (6 mm), because the blade will go less deep than before. After all, you want your hand heights to remain the same as you are used to. Without this adjustment you will be fighting against the design of the RandallFoil and be forcing the blade down below the water surface.
Set your blades close to 0 degrees, on a 0 degrees pin.
IMPORTANT: 0-degree adjustment is optimal for the performance of the foils. Without this adjustment you experience a feeling of wash or water turbulence during the stroke.
(For example, you need Concept2 7/1 inserts. Lower insert is "7" facing the oarlock. Upper insert is "7" from the oarlock)
In addition to gluing the foils, it is wise to fix them mechanically with, for example, stainless steel screws. See one of the product photos.
Randall Foils are approved by FISA
Additional Information
| | |
| --- | --- |
| SKU | RFoils |
| Weight | 350.0000 |
| Country of Manufacture | Austria |